Emsworth Dental Surgery
Interior design
Brand Identity
Signage
Logo
Emsworth Dental Surgery appointed us when they decided to move the business to a 19th Century, grade II listed building. As well as designing the interior scheme, we also implemented a new brand logo and style.
A simple and fresh brand ID
We wanted to produce an identity that was simple and fresh whilst communicating a sense of professionalism and care. The icon we developed features a swan in a watercolour style mark which is soft, exaggerated by the use of blue to create feelings of care and trust. We rolled out the Brand ID across all company stationery asstes including interior signage.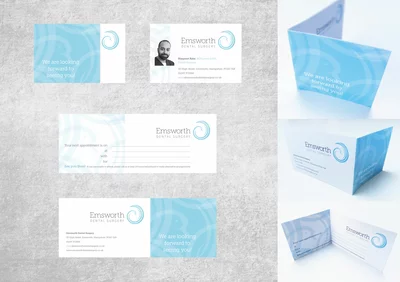 For the interior design we commissioned a bespoke reception counter and banquette seating, with modern light fittings. We also collaborated with a local photographer to produce a large scale wall graphic, making the space feel more dynamic.