Lobbycraft: trends in reception design
Looking at this photo of the W hotel in Barcelona, you can tell reception areas have changed a little bit since the year 2000! UV face paint anyone? Aside from the many stylistic trends we've seen between then and now, it is technology that is fundamentally changing the way we design reception areas.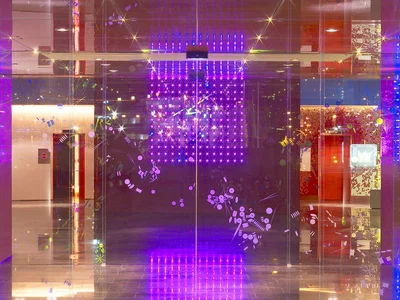 In this blog post, our founder and creative director Andrew shares his thoughts on how lobby trends have changed over time.
What trends have you noticed in recent times with regards to reception and front of house design?
Access to technology allows us to work at anytime and anywhere, so progressive business environments are these days more flexible and people focussed to accommodate our rapidly changing requirements. Work spaces are adapting to acclimatise to this new 'workstyle' and as a result, we see a merging of environment types. Our offices now look more like coffee shops.
This engenders an encouragement to work, a promotion of creativity and better use of our limited time. This shift in ethos means that front of house areas and receptions can be places where the boundaries are blurred a little. We can be playful and introduce features to reflect company character, brand ideals and corporate history, all of which provide an immediate impression of what kind of company we are dealing with.  Space flexibility is a consideration also, as many companies choose to use lobbies for events and functions, so the ability for a space to shape shift is vital.
"Work spaces are adapting to acclimatise to a new 'workstyle' and as a result, we see a merging of environment types. Our offices now look more like coffee shops."
Tweet this quote
How have working practices impacted on the use and design of lobby spaces?
As we 'work on the go', it is often the case that we turn up early for meetings and are able take the opportunity of some free time to catch up on emails, dip into social media feeds and attend to other work. So a dynamic area that might include privacy booths, poseur tables for drop in meetings, comfortable sofa seating, full Wi-Fi access and refreshments are attractive and mean that we are encouraged to use this space more productively, without having use other areas of the building.
It is also important for staff to have alternative work areas to gravitate to, rather than being chained to their desk all day.  So we're now seeing looser format reception areas that provide a creative and energising space to work in which is beneficial for productivity and staff wellbeing.
Are environment controls vital to get right to create a reception area that can be used by all as an inclusive working space?
It is important when designing front of house spaces to strike a balance between whimsical 'faddish' design to appear en-trend and implementing the right level of practicality and professionalism. Reception areas need to be energising and welcoming spaces, but are also required to reflect stability and brand direction.
Being that reception areas may be used for a variety of roles, consideration for acoustics, privacy and wellbeing are crucial factors to design into a scheme. Clever lighting design can be an effective way to create zoning and add atmosphere. Flow of movement is important too, so that the transient nature of these areas is not disrupted and that health and safety regulations are complied with.
What do you think the future of lobby/reception environments looks like?
As our work spaces, waiting areas, meeting points, refreshment stations merge, I believe that reception areas will evolve into more transient hubs where options for work, meetings and time out are all considered and accommodated. There might come a time where the office environment is turned upside down and we no longer see the traditional model of sectioned office areas, but a fluid 'market place' approach, which is more reactive to our ever changing desires and needs as a workforce.
If you're looking for advice on interior design or have a project in mind, drop us a line and we'll be in touch!