Salon interiors that make our founder wish he had hair!
Although Crucial Projects founder Andrew hasn't stepped over the threshold of a hair salon in many, many years, he has stood outside, looking in and dreaming of past glories. Here's a roundup of his favourite salon interiors he's found whilst window gazing.
The Barber Shop
Andrew says "I love the eclectic and vintage style that the Barber Shop has. The use of different textures, exposed brick and cladding makes it feel edgy whilst the characterful artwork and brightly coloured chairs bring warmth and personality."
Edwards & Co, Melbourne
"This salon interior is clean and fairly minimal but they've added a few little touches and it's those details that make this one stand out for me. The white walls, beams and chairs make everything feel bright and light but then they've used industrial, loft style lighting and hardware which creates a lovely contrast. Lastly the bespoke wall illustration makes a bold statement about who they are and suggests they don't take themselves too seriously."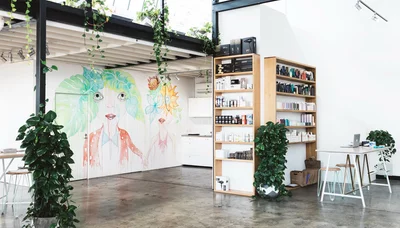 DKUK Pop Up
"Traditionally, clients in salons will face mirrors however this salon come art exhibition did things a little differently. Instead of facing mirrors, their clients faced art including paintings, hand-printed t-shirts and accessories. Speaking practically this is probably not something many salons will want to adopt however what I really like about this design is how they've created the illusion of space in what is a tiny salon. To do this they've used white horizontal cladding and a large mirror that runs all the way along the back wall. Lastly the bright colours and geometric shapes make it feel ultra-modern. This style is great for unisex salons or could work equally well for a male/female salon which is something you don't often see."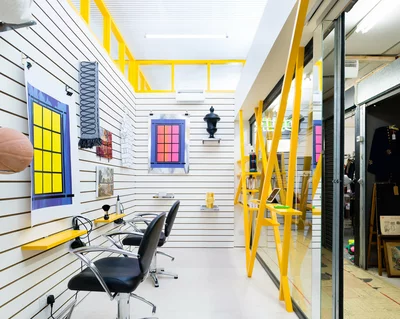 Paloma nail salon, Houston
"This salon is super simple and elegant. The polished concrete floor and white walls, is a very popular look at the moment. But it's the brass finishes and deep teal seats that add an element of luxury in what might otherwise feel a little stark."
Check out our Pinterest board for more salon inspiration or get in touch if you'd like to see how we can help transform your business interior.
Photography credits in order of featured:
Barber Shop - Bike Shed
Edwards & Co - Get Timely
DKUK - Salons Direct
Paloma - G2LD 
Cover Image - London On The Inside